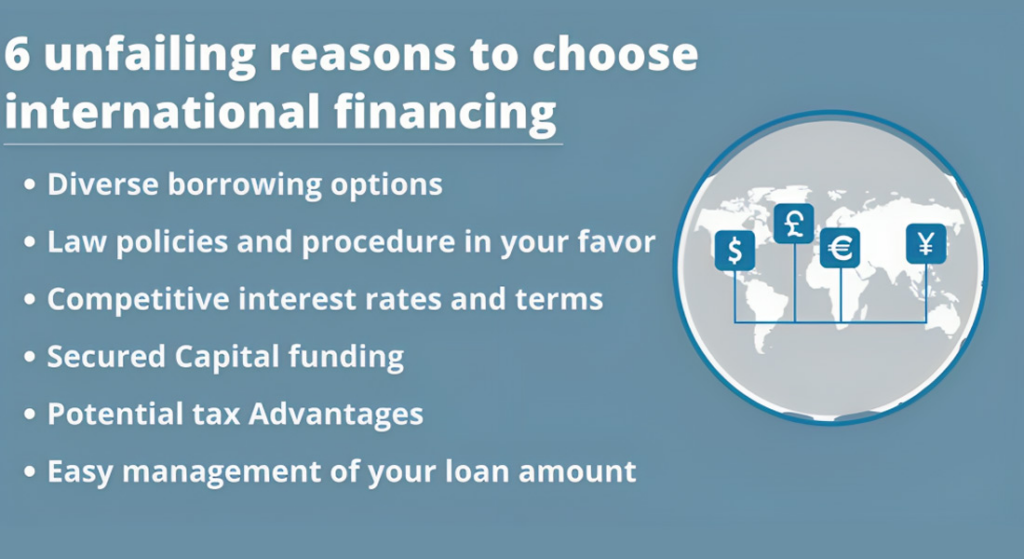 Six Unfailing Reasons To Choose International Financing
If you are running your business in multiple countries, the need for international funding is inevitable. But there is more to discover below.
Getting funding for your startup can be a challenging task. There are several businesses out there wandering for proper funding. With everything being globalized, businesses are interacting on a global basis. Their activities are not confined to specific regions or countries.
So, to operate on a worldwide level, there should be specific branches of the business. These branches are responsible for operating that specific wing of the business.
Now, international loans for businesses have become an important aspect. It's because this is the only way they can survive worldwide and expand their reach to the international audience.
So, let's learn a bit about,
What is International financing?
International Financing is another source for businesses to raise funds. It is the type of financing that deals on a global level. Today, because of the rapid globalization of business operations, companies have access to funds in the global market.
This type of financing helps businesses to smoothen their transactions with foreign partners like customers, investors, suppliers, and lenders.
Now, let's look at some of the reasons to choose International funding. These are:
Diverse borrowing options
In the case of international loans for business, you will find all kinds of loans. These are most common in domestic settings, and hence this is the first thing that people notice. If the available options are not working well for you, you can even find some other options that are more relevant to your needs.
Each type of loan will have its characteristics spending on the interest rate on the loan amount. Also, in several cases, the application fee, the origination fee, the prepayment penalty fee, and the late payment fee will be different.
So, you can compare each of the options side by side based on their terms and costs. This will help you choose one that best suits you and receive approval.
Law policies and procedures in your favor
Another great reason for choosing international loans for business is the difference in banking laws and procedures. As capital deals internationally, the laws and procedures of countries vary among them.
So, a combination of them can work in your favor and save you a considerable amount of money on the various fees and charges.
But for this, you need to learn about the different banking laws and procedures of different countries. Discussing thoroughly with the lending officers can give you the right understanding of how the loans are structured and what obligations fall on you when approved.
Competitive interest rates and terms
A great advantage of secured capital funding from international financing is that you get favorably matching interest rates like you are used to in your home country. Moreover, the terms and conditions of international loans for business also favor you to seek them.
There are several countries that dedicatedly offer loans to outsiders. This is to stimulate their economy. Here, their goal is to encourage foreigners to invest in their country. They do this by providing them with loans to fulfill their needs. Now, to favor them to take more loans, they structure the rates, fees, and terms in a way such that international businesses are more likely to borrow from them.
If you are a business owner running your business internationally, you can certainly find options better than your country of origin.
Secured Capital funding
A lot of business owners might have doubts about the level of security that international loans for business may offer. But if you choose the right company, they will never let you have any doubts about their services. International financial institutions are known to provide better security options than domestic loans.
They will execute the documentation process with complete transparency. There will not be any hidden charges or other risky agreements. Further, the information about your loan terms, payment history, account details, and other essential data is safe with international loans for business.
An off-shore company takes several hefty measures to prevent the loss of data. They implement special server security levels designed to protect data from theft.
Potential tax Advantages
With international financing, you may have some tax advantages, depending on the type of loan, the amount, and the country. There are several international financing institutions that offer lower tax rates on your loan amount. The better option is to talk with your international loan officer and get an idea of the tax burdens. You can also determine if your country of origin has any taxes imposed on your loan amount. But usually, the taxes for ex-pats taking international loans are comparatively less than that of domestic loans.
Easy management of your loan amount
Many off-shore international financing institutions have online access to other forms of banking. If you have bank accounts that are connected to your bank app, you can manage everything from a single place.
It will be easier to check the current loan balance, make payments, and keep track of the payment history and what not. The online interface also offers you the liberty to manage your loan account at any time of the day.
So, these are the benefits of choosing international loans for business for your funding. You will face no issues while filling up the documents. A lot of institutions also offer online documentation facilities. So, you can fill up your loan document from the comfort of your home.
If you are looking for worldwide capital funding, there are several sources to choose from. These sources are mainly from commercial banks, International agencies, international capital markets, etc.
Now when choosing a source for your international financing, you need to consider a few things. These are:
Cost:
There are two types of costs to be considered before making a decision. These are the cost of obtaining the funds and the cost of utilizing the funds.
Financial Strength:
You should always have a check on your financial state before choosing the source of funds. If you find your company in a place to repay the loan amount as per the norms of the source you selected, there will be no financial strain on your company.
There are several other aspects to keep a check on. But it's not possible to mention everything in this article. So, why not contact a company like Capital Fund offering long-term international loans for business.
FAQ:
Are international Loans for businesses secured?
Ans: Yes, there is complete security when applying and getting approved for an international loan
Which is the best company for international loans for business?
Ans: Capital Fund is the best company offering easy and secured international loans.